Are you looking for a unique excursion during your next vacation in Maine?
Consider a day of lighthouse sightseeing.
Maine has a long-standing tradition of maintaining safe shorelines thanks to an array of majestic lighthouses. Each has its own unique story – some dating back to the earliest days of our once newly-formed nation.
So, during your next visit, take this guide, go hop in your car, and prepare yourself for a memorable adventure.
Your journey begins…
Nubble Light – York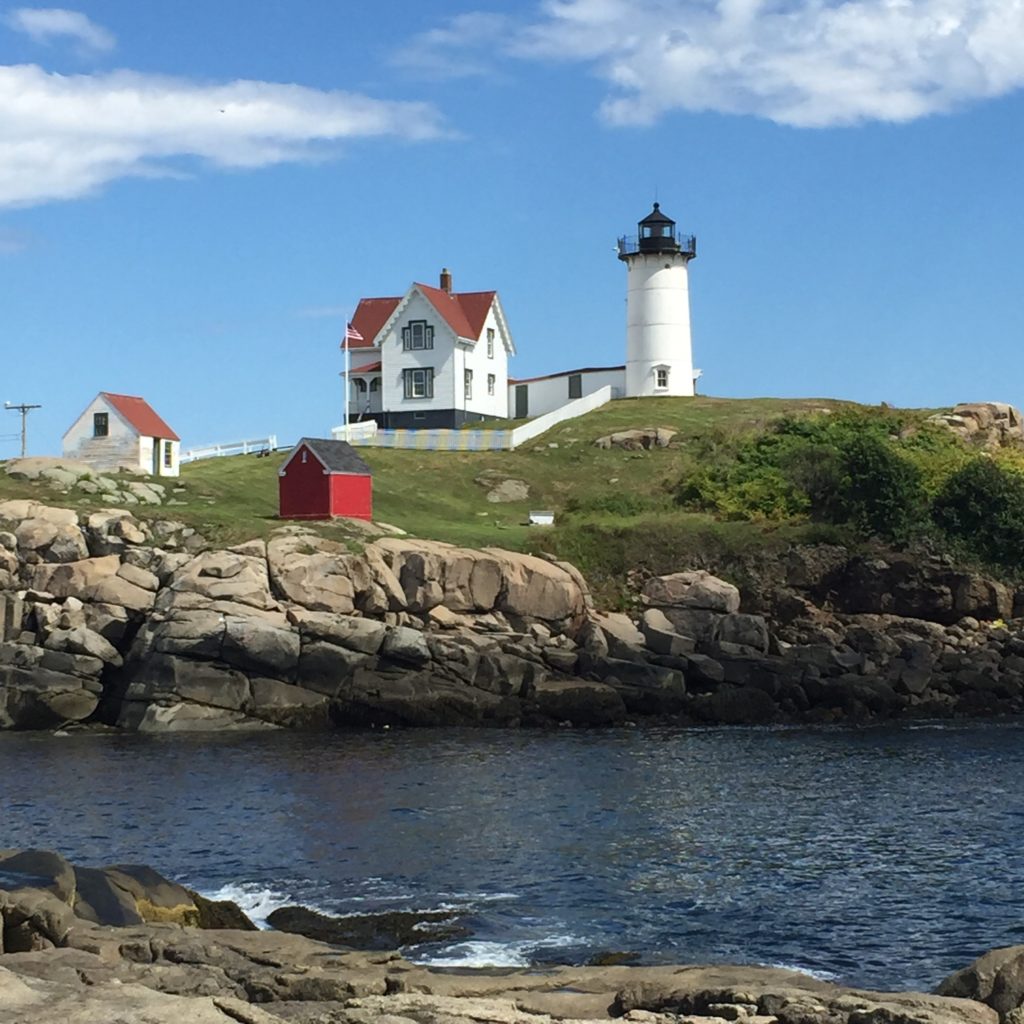 I recommend starting your trip along Route 1 in York, Maine where you'll find "Nubble Light". Officially known as Cape Neddick Light, this majestic lighthouse has been in operation since 1879.
You won't be able to get right up to the light as access is closed to the public; however, it is easily viewable from nearby Cape Neddick Point.
After you take in the sights, continue heading north on Route 1. When you get into Wells, you'll want to take Route 9 towards Kennebunkport to your next stop.
Goat Island Light – Kennebunkport
Goat Island Light was first established in 1835, later upgraded in 1859 to the brick tower you'll find there today. The lighthouse is still in full operation, though the island it sits on is closed to the public.
Catch a great view of this historic light from the shore in Cape Porpoise Harbor just off Route 9 in Kennebunkport.
Then, you'll be off to your next stop.
Wood Island Light – Biddeford
Wood Island Light is Maine's second-oldest lighthouse.
How old, you ask?
Well, the site of this ship-warning beacon was first ordered by President Thomas Jefferson in 1808! The original wood structure lasted for 30 years before being replaced in 1839 by the granite structure you see here today.
For best viewing of Wood Island Light, head to Biddeford Pool by way of Route 208 to catch a seasonal tour.
Oh, and be sure to ask about the rumors of ghost activity while you're there too!
All right, back in the car…
Cape Elizabeth Light – Cape Elizabeth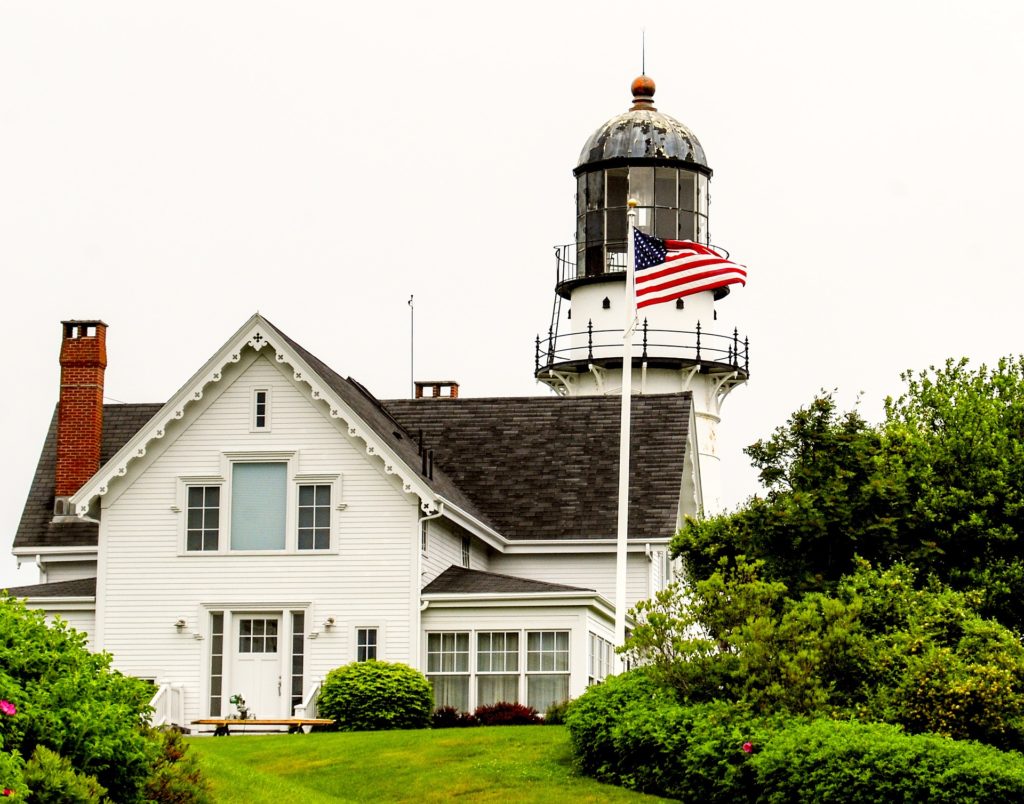 You'll have a little navigating to do for this next stop. In case you're not using your GPS, here's the route I suggest:
From Wood Island Light, stay on Route 208 north which will take you into downtown Biddeford. Hook a right onto Main Street (Route 1) and follow that north into Scarborough where you'll turn right onto Black Point Road (Route 207). Take a left on Spurwink Road (Route 77) and travel until you see the signs for Cape Elizabeth Light.
This location is also known as "Two Lights" because there are in fact two lighthouse towers erected there. The western tower is long out of service; however, the eastern tower is still a trusted seafarer's friend, warning ships of impending danger.
When you visit, also spend a little time at Two Lights State Park for a good view of the grounds.
Alright, it's time to move on to your next stop…
Portland Head Lighthouse – Cape Elizabeth
Portland Head Light, Maine's oldest lighthouse is your next stop. It's not too far north of Two Lights. You'll hop back on Route 77 North then take Shore Road to get there. Again, there are plenty of signs so you won't be led astray.
This famous lighthouse was originally commissioned by President George Washington in 1787 and it was eventually completed in 1791.
The light is still active and you'll find upon arrival that the grounds around it are immaculately maintained. Parking can sometimes leave you waiting a few minutes during peak times – but the wait is well-rewarded.
During your stay here, be sure to look out into the Atlantic ocean where you'll spy the next lighthouse on your itinerary…
Ram Island Ledge Light
The aggressively outward-jutting ledges off Ram Island were notorious for wrecking ships. This prompted the construction of Ram Island Ledge Light, which was originally completed in 1905.
Astute lighthouse lover's will note that this island beacon is a twin of Graves Light in Boston.
As you can tell from the pic shown here, there's no public access. But as mentioned above, you can spot this light during your stop at Portland Head Light.
Alright, you're almost done! Only two to go…
Spring Point Ledge Lighthouse – Portland
Spring Point Ledge Light in Portland is your next stop. To get there after viewing Ram Island Light, hop back on Shore Road heading north, then take Preble St to Broadway. Use your GPS for more detailed directions navigating in the city.
This historic light has been warning ships of danger since 1897. Originally it was disconnected from the mainland. But, thanks to a huge effort in 1951, a 900-foot breakwater was installed to connect the little light to the shore.
The breakwater is a popular spot for spending time relaxing while watching the boats in the harbor.
After some sightseeing, you'll be off to your final stop…
Bug Light – South Portland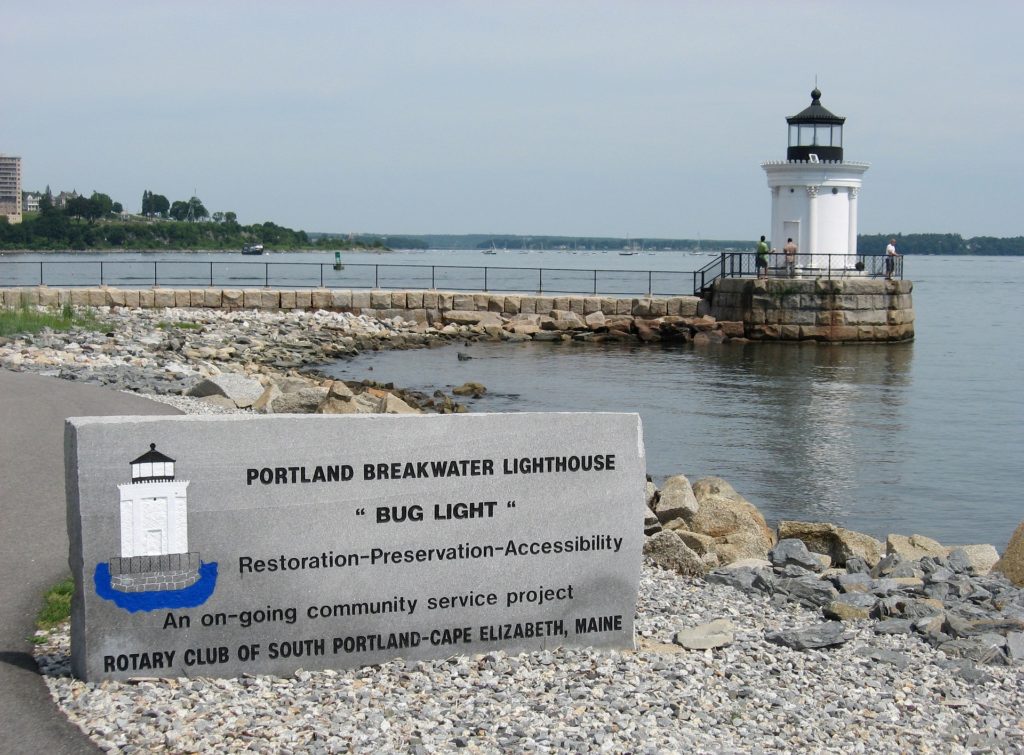 Portland Breakwater Lighthouse, more commonly known as "Bug Light" is located in South Portland. If you want to stretch your legs after all that driving, you can walk to Bug Light from Spring Point Ledge Lighthouse. It's about 1.3 miles away by foot.
Like many of the other lighthouses on this list, the original wooden structure (first built in 1855) gave way to a stronger iron structure in 1875. The light was in operation for several decades until decommissioned in 1943.
Renewed interest in the little light reignited in the late 90s and it was in fact reactivated in 2002.
Visitors can get an up-close look-see at the lighthouse, walk along the breakwater, and also spend time in nearby "Bug Light Park".
Now, pat yourself on the back! You just navigated the coast and enjoyed several of Maine's historic lighthouses.
Did You Work Up An Appetite?
Whew! You made it! And I'm guessing you might be hungry after taking in all those lighthouses.
You're already in Portland so you have an ultra-wide variety of delicious dining options! Or …
Feeling like having pizza? See our top picks for 5 Awesome Pizza Joints In Southern Maine You NEED To Visit